Members of the Order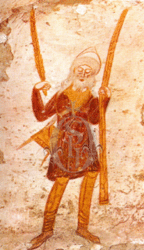 The Order of Saint Lazarus is the only ecumenical Order. As an Order of Chivalry, the Order of Saint Lazarus has been able to maintain the values of the nobility, and, traditionally, most of its members have been drawn from the chivalric and noble classes of the Christian world.
Today, its members are drawn from every social class. They can be described as Christians characterised by a nobility of spirit, which manifests itself in their altruistic conduct.
All Knights must be characterised by the qualities inseparable from chivalry, that is to say that they must be distinguished by special virtues.
The Order has preserved its traditional moral values, including the spirit of service, self-sacrifice and discipline, which continues to be a hallmark of Knights in the modern world.
It no longer fights with the sword but with peaceful means against disease, poverty, exclusion and intolerance, and also in the defence and promotion of the faith.
All the Knights and Dames of the Order, whether religious or laity, dedicate themselves to the practice of Christian virtue and charity, endeavouring to attain spiritual perfection within the Church and devoting their energies to the service of others.
As an ecumenical order of chivalry, membership of the Order of St Lazarus is open only to Christian men and women living in accordance with Christian values and desirous of helping others and working for Christian unity.
Through its members and volunteers, Saint Lazare engages in charitable action in over forty countries around the world, giving succour to thousands of people in need – to the sick and to those whom society has rejected. Saint Lazare cares for people who have been swamped by misery, for those who are dying of famine, for the forgotten, for those ravaged by disease, and for the innocent victims of the barbarity of their fellow human beings.
Day in, day out, through the work and dedication of thousands of volunteers, the Order of St Lazarus takes up arms against human misery…
The Order is a marvellous family, which you can contact through its representative closest to you.