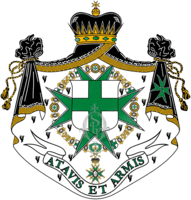 "The Government of the Order is constituted as follows:
The Grand Master is the supreme Head of the Order.
The Grand Magistry assists him.
The Constitutional Council interprets the Constitutional Charter, regulations and ordinances of the Order. It arbitrates in disputes between the organs of government, the jurisdictions and the members.
The Grand Magistral Council provides the representation of the national Jurisdictions.
The Chapter General permits the expression of the voting members."
Constitutional Charter, article 19