Saint Lazare in the 21st century

The Order's mission is to support Saint Lazare member-Jurisdictions and partners in their humanitarian projects to promote the health and well-being necessary for sustainable human development.
This is achieved by strengthening and focusing the capacity of Jurisdictions to contribute to improving the physical, social and economic determinants of human health, and by collaborating with partner organizations.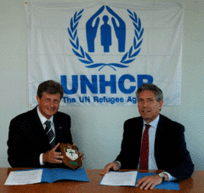 In keeping with the enlargement of the Order's humanitarian activities to encompass problems associated with water, a formal agreement to collaborate on third world projects has been established between the Order of Saint Lazarus and the UNHCR.
This mutual agreement between the Order of Saint Lazarus represented by the Grand Chancellor, Count Philippe Piccapietra, and the UNHCR represented by the Director of External Relations, Mr Nick van Praag, was signed in Geneva on 20 June 2007 - 'World Refugee Day'. The signed accord marks the beginning of a partnership in which the Order of Saint Lazarus will support the installation and maintenance of fresh water supplies for those most in need in refugee camps.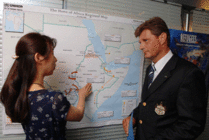 Senior Officer for the East and Horn of Africa Desk, Regional Bureau for Africa, Mrs Yoshiko Baba-Poncelet, indicating the Ethiopian map.
The Order's first project in Ethiopia is now underway.
Read more about refugees... [UNHCR webpage]