Investing in the Future with Education!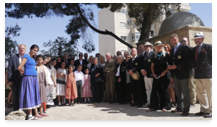 Saint Lazare International is committed to support programs dedicated to children living in disadvantaged areas by helping institutions provide medical, social, and educational support. An important community we proudly assist is the Bethany School is located 500 meters east of the tomb of Lazarus in Bethany/Al-Azaria on the West Bank. The walled-in parcel of land where the School property is located includes a house built originally for Russian Orthodox pilgrims during the late Romanov Era, a Schoolhouse, and an auditorium, both built in the mid-20th century. Also, a free-standing chapel thought to mark the meeting place of Mary, Martha and Jesus before the raising of Lazarus as told in the Gospel of John Chapter 11 was built after the discovery of a Byzantine-era stone. This 20th century project confirmed the site as a place of pilgrimage.

A small number of monastics and short-term volunteers oversee an annual program for Palestinian female students from the impoverished West Bank section of East Jerusalem. The School includes a boarding section of seasonal and year-round residents whose numbers generally include approximately a dozen Christian girls from Palestinian, Russian, and Ukrainian families residing in the Holy Land.
All of these girls have either experienced the loss or separation of at least one parent or come from families which cannot provide a stable and safe environment to raise their children.
Everyone Can Make a Difference
The humanitarian and charitable activities of Saint Lazare International
are possible thanks to the generous contributions of volunteers, sponsorships, and donations.
Contact
Saint Lazare International,
Maronite Convent Street, Jaffa Gate 12
IL-9712039 Jerusalem
Tel. +972 2372 4135, e-mail: info(at)saint-lazare.org
EUR Donation Account
Volksbank Hochrhein
IBAN: DE25 6849 2200 0002 1084 37
BIC: GENODE61WT1